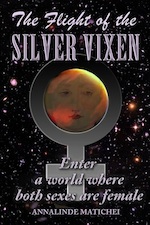 The Flight of the Silver Vixen is now available in a beautiful glossy-covered paperback edition.
Silver Vixen was the first of our books ever to release first in digital form, on Amazon Kindle, initiating our digital publishing strategy which we are making central to this intemorphic publishing renaissance.
But we promised a physical edition would follow, and here it is. Everyone who has seen it so far says it is beautiful.
Order yours right away