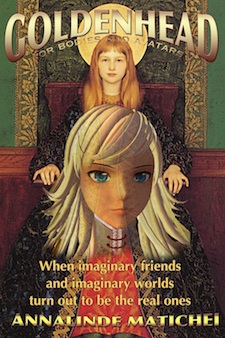 They say your imaginary friends aren't your real friends.  But who stands by you when you lose your physical body?
Get the Kindle edition now! Only $2.99.
Paperback $14.99
Goldenhead: or Bodies and Avatars is Annalinde Matichei's second book.  Reviewers hailed her first book, The Flight of the Silver Vixen, in such terms as "this rare and exhilarating book".  Goldenhead pursues a theme even rarer in a manner that is even more exhilarating.
On one level a wild fantasy adventure, Goldenhead considers the subject of imaginary friends and imaginary worlds.  Are they really imaginary, or are we sometimes in contact with realities that go deeper than the "real" world in which we find ourselves?
And those of us who don't feel we "belong" here in this mundane, patriarchal world:  could it be simply because we don't?
Goldenhead introduces an amazing all-girl cast of characters, many of whom resemble anime characters, because anime is not just an art style but the "look" of certain alternate realities: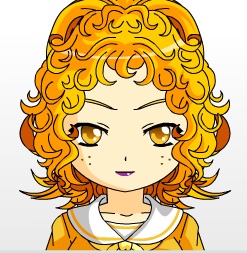 Goldenhead
A girl from an earth-like (male/female) world who never felt at home there and lived most of her life with an "imaginary" pixie companion, frequently visiting the "imaginary" city-sized spacecraft called the Imperial Princess.
While she is trying desperately to "grow up" and leave her "fantasies" behind, her body falls into a coma and she finds herself fully among the people and places she believed she had imagined.
She also finds her new real world threatened by dark, demonic forces and becomes one of the three Little Knights determined to protect the Motherland.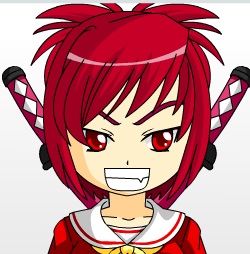 Trilla: the Swordsmaiden
Another girl from an earth-like (male/female) reality, Trilla has been a warrior-in-training aboard the Imperial Princess all her life, while believing this was merely her fantasy life.
Like Goldenhead, she loses the use of her physical body and finds herself fully aboard the Princess, seeing things clearly and feeling them solidly.  Finding the Motherland and her sisters under threat, she becomes the mighty swordsmaiden of the Little Knights.
For a less "chibi" look at Trilla, take a sneak peek at this snippet from a forthcoming trailer: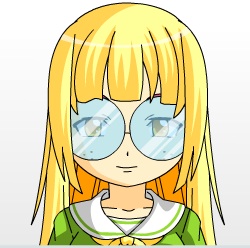 Hermya: the Healer
Hermya is the third of the Little Knights.  Unlike her two sisters, her physical body is on the Motherland, and she is not alienated from her former life but wishes to return to it.
However, she too has lost the use of her physical body and sees her beloved Motherland under threat.  Unlike Goldenhead and Trilla, she has no offensive capacity, but is a powerful healer and develops other remarkable abilities that will prove invaluable to the knightly trio.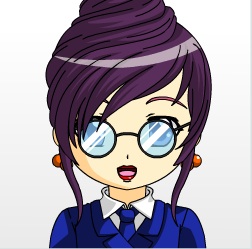 Therana: the Teacher
Therana works as a teacher aboard the Imperial Princess.  To do this, her body must be put to "sleep" on the Motherland so that she can animate her shipboard avatar.
Therana is not only teacher and mentor to the Little Knights, but finds that she is needed to carry out missions in her physical body back on the Motherland.
What she had thought of as a simple out-of-body teaching post rapidly becomes surrounded with intrigue and adventure involving sorcerous musicians and a demonic invasion of the Motherland.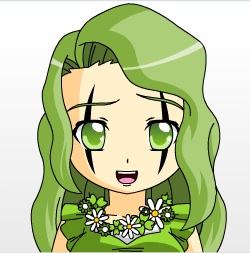 Sarai the … ???
Who or what, exactly, is Sarai?
At first she seems like a simple village girl in a distant world besieged by demons, a world to which the Little Knights are drawn in order to defend her.
It quickly becomes apparent that the demons want to kill Sarai more than they want to conquer cities.
Who is Sarai?  What is her place in the great battle between Light and Dark that is unfolding on many worlds?  What is her mystical connection to the Little Knights?  And could she be the most powerful of them all?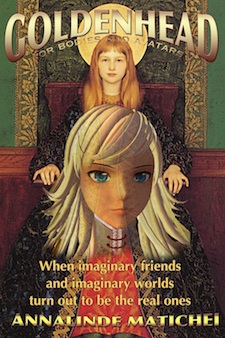 Goldenhead: a new realm of – "Imagination"?
These are just a few of the fascinating characters you will encounter in Goldenhead.  Characters that may pull at your heartstrings and deepest memories, making you cry out "I have been there!"
If you have ever felt that this mundane world was not your home, if you have ever known "imaginations" that were far nobler and truer than the supposed "hard realities" of life, you owe it to yourself to read Goldenhead.
Sample this book free at The Reading Room.
Goldenhead is currently available in a digital kindle edition at $2.99 and as a paperback at $14.99. Digital editions are important to us because we feel the unique and powerful experience of this book should be affordable to all people of all ages.
For those who want a physical edition the paperback Goldenhead is available at $14.99.
We strongly advise you to hit this link and zoom over to Amazon right now.
There has never been a book like Goldenhead.
Read The Anime Style – an interview with Annalinde Matichei on the meaning of anime style characters in Goldenhead.
This world's first anime-character author, Annalinde Matichei, launches her book Goldenhead at an international book fair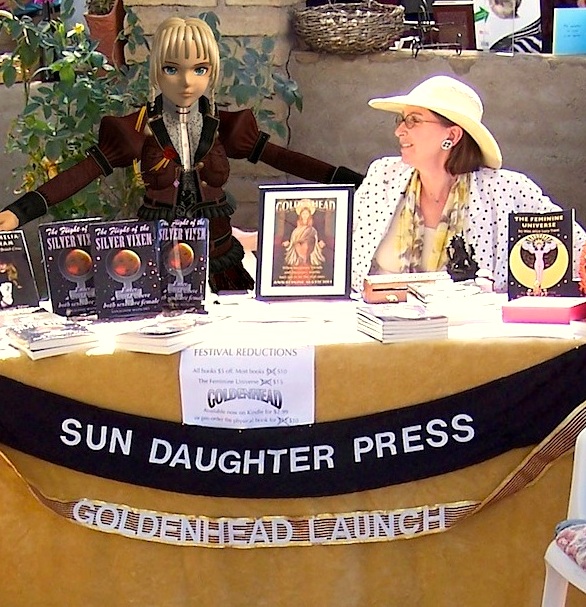 But what were you waiting for?
Get Goldenhead now – only $2.99