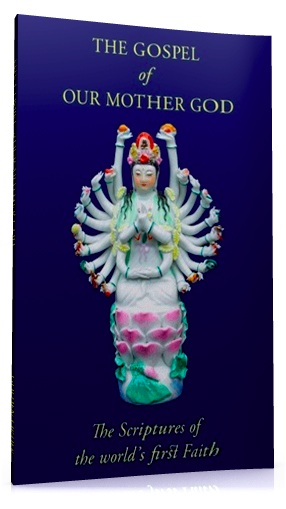 The Gospel of Our Mother God is, quite simply, the feminine Bible.
Its writings have been used for nearly forty years by many different groups and individuals who worship our Heavenly Mother as the sole God and Creatrix of the universe. For the first time all the texts are brought together in a single volume, along with prayers, canonical hymns, and daily Offices.
The Gospel of Our Mother God is intended as nothing less than a Family Bible and Prayer Book for devotees of God the Mother. There are no male figures whatever in any of these texts, which form the basis for a purely feminine devotion.
This book is regarded as the most reliable version of the texts. It is a careful and conservative edition that has excluded any doubtful material and also preserves the powerful and poetic language of the original (as opposed to "modernized" versions made recently).
At the same time it includes additional non-Scriptural prayers and devotional material, as well as feminine-monotheist Sanskrit Scriptural texts and a feminine translation of Isa Upanishad, along with extensive commentaries showing the thealogical identity of these ancient texts with the more recent Scriptures and the ultimate unity of feminine religion.
Contents include:
The Filianic Creed – with extensive statement-by-statement commentary.
The Creation (of the world by Our Mother God) – Three chapters with commentary.
The Mythos of God the Daughter – Seven chapters.
Sanskrit texts – translated, each with extensive verse-by-verse commentary.
The Filianic Sutras – the twelve canonical sutras of God the Daughter.
Canonical hymns
Prayers and Daily Offices
Glossary of Déanic terms – thealogical vocabulary, feminine Angelology, etc.
---
The Gospel of Our Mother God is available at $14.99 including shipping.
We regret that we cannot currently ship outside the United States.